Symposium: "Jesus in [1950s] Australia"
Symposium: 'Jesus in [1950s] Australia'
Venue
Pilgrim Theological College,  29 College Crescent, Parkville, Victoria
on
Friday 16 to Saturday 17 April 2021
How has the figure of Jesus been understood in Australia? What unexpected mid-century (1950s) perspectives continue to influence Australian religious and secular culture? The Jesus in Australia Research Project is running a 2-day symposium with new research in multiple discipline areas. A forum discussion, 'Christianity in Conversation', provides opportunity to talk with leading thinkers about the place of Christ and Christianity in the contemporary world.
Speakers include:
Professor Emeritus Bill Ashcroft (UNSW)
Professor John Carroll (La Trobe)
Dr Meredith Lake (ABC radio Soul Search)
Professor Lynette McCredden (Deakin)
Associate Professor Paul Watt (Adelaide)
and theologians and historians from Pilgrim Theological College, University of Divinity.
Join us on 16–17 April at Pilgrim Theological College, 29 College Crescent, Parkville, Victoria
Register now: http://bit.ly/jesusinaustralia
For further details see : http://bit.ly/jesusinaustralia
or contact Dr Kerrie Handasyde via email, [email protected]
Access Flyer here: http://therha.com.au/jesusi1/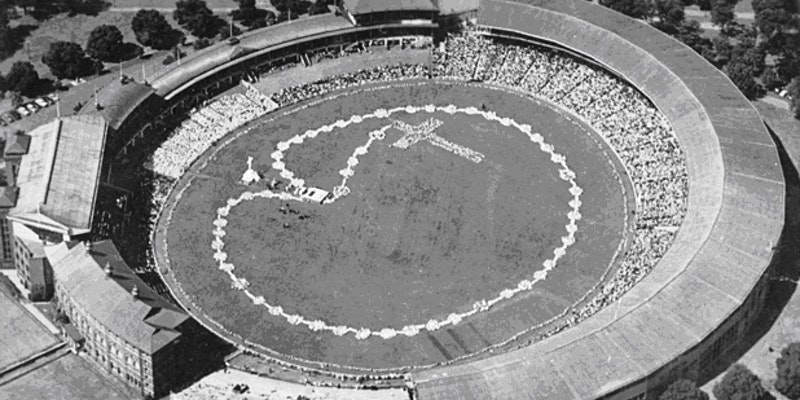 Image: Melbourne Cricket Ground, 18 November 1951 https://www.coasit.com.au/santospirito-collection-religion